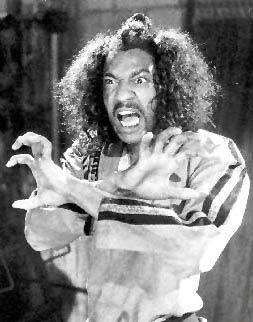 Growing up, I always heard that death (and birth) came in threes. Whenever someone died, we could expect two more people to die. DH dismisses this as Southern superstition, "Biblebelt Beliefs" he calls them, but it has proven true as far as I could see. When I heard that Bernie Mac died, and then Isaac Hayes the next day, I kept waiting for the other shoe to drop. Sorrowfully, I wondered, who would be the third beloved member of the black entertainment community to leave us? On August 20, I got my answer.
Julius Carry, best known to us as Sho'nuff from Berry Gordy's The Last Dragon, passed away on August 19 as a result of pancreatic cancer. He was 56. Who could forget the menacing way he challenged Bruce Leroy in that movie theater early in the movie? I still tell DH to "Kiss my Converse" from time to time.
Carry made guest appearances on many shows. I remember him as Angela's military father who wasn't crazy about her boyfriend Shawn on
Boy Meets World
. I also remember that he was the debonair philander married to
The Jefferson's
Jenny (Berlinda Tolbert), but dating Phyllis on
Half & Half
. He also appeared on
The District, The Hughleys, Mosesha, Family Matters,
and a host of other shows. But I think I remember him best (other than as Sho' nuff) as the club owner announcing "Kimberllllllllly Reese!" when Kim performed as the lead singer of the band Expressions on
A Different World
. Julius, you will be missed.
Although she was not a member of the entertainment industry, we also lost Representative Stephanie Tubbs Jones this week. She suffered a brain aneurysm and died some time later. Honestly, I was not a fan of hers during the 2008 Democratic primary, but I mourn her lost nonetheless. She was a mother and a sister and she made history for our people. She was the first African American woman to be elected to serve in the US House of Representatives from the state of Ohio. During her terms, she worked to improve economic empowerment in our community and funding for improved health care. Surely, we cannot afford to lose any more of our strong workers.